The list below is incomplete and is only posted here for general reference. UJPHL sponsored or co-sponsored all events listed except where "Supported Event" is noted. In those cases, the events were put together by others.
August 26, 2021
Paper Boats Zine (Supported Event)
Book Launch: Paper Boats, a collection of essays, poetry, photography and art by 14 Palestinian women in Gaza and 3 American women in SLC
---
July 25, 2021
Mary Neznek spoke about Mental Health in Palestine at the Friends Meeting House, Salt Lake City, UT
---
November 12-14, 2019
Combatants for Peace spoke at the First Unitarian Church, Salt Lake City, November 13.
Former Palestinian prisoners and Israeli Combat soldiers and officers laid down their weapons and established Combatants for Peace, a Nobel Peace Prize nominated movement, founded on the belief that the cycle of violence can only be broken when Israelis and Palestinians join forces. It is the only organization worldwide in which former fighters on both sides of an active conflict have renounced violence and chosen to work together for peace. Their joint action lays the groundwork for a peaceful future by modeling the potential of what can be.
---
Thank you, KRCL, 90.9 FM, for Radioactive interview November 14, 2019.
---
September 25, 2019
The newly released Empire Files and ANSWER Coalition documentary, "Gaza Fights for Freedom" was shown at the University of Utah Union Theater. The film's creators and directors, Abby Martin and Michael Prysner, were present and responded to Q&A after the film. Watch the official movie trailer now: https://vimeo.com/ondemand/gazafights
Massive protests in cities across Gaza—the world's largest open-air prison—were called under the banner of "The Great March of Return" in 2018 with the demand that Palestinian refugees be allowed to return to their lands seized in the ethnic cleansing that made way for the creation of the Israeli state.
Tens of thousands of Palestinian protesters were met with the brutality of the Israeli occupation forces. 'Gaza Fights for Freedom' is a glimpse into the on-going heroic struggle of the Palestinian people to survive a brutal occupation and genocide, and to return to their homeland.
This riveting collaboration between The Empire Files and a heroic team of Palestinian videographers in Gaza features exclusive coverage of the 'Great March of Return' protests, and extensive evidence—with frontline footage and victim testimony—of Israeli war crimes.
---
Sept 19, 2019
Hadley Rampton, renowned Utah Artist, presented slides of her travels to the West Bank at the Phillps Gallery where her watercolors of the West Bank and Morocco were on exhibit. A brief panel discussion with Q&A on Palestine followed the presentation.
---
Past UJPHL Speakers, Panelists, Film Producers
---
March 25, 2019
Imprisoning a Generation was screened at the First Unitarian Church in Salt Lake City.
If you missed the screening of this film that exposes the arrest and persecution of children in Palestine, you can still watch the trailer and learn more at anemoia.net.
We were honored by the presence of the filmaker/producer, Zelda Edmunds for Q&A afterwards.
A very special thanks to KRCL Radioactive for helping UJPHL get the word out.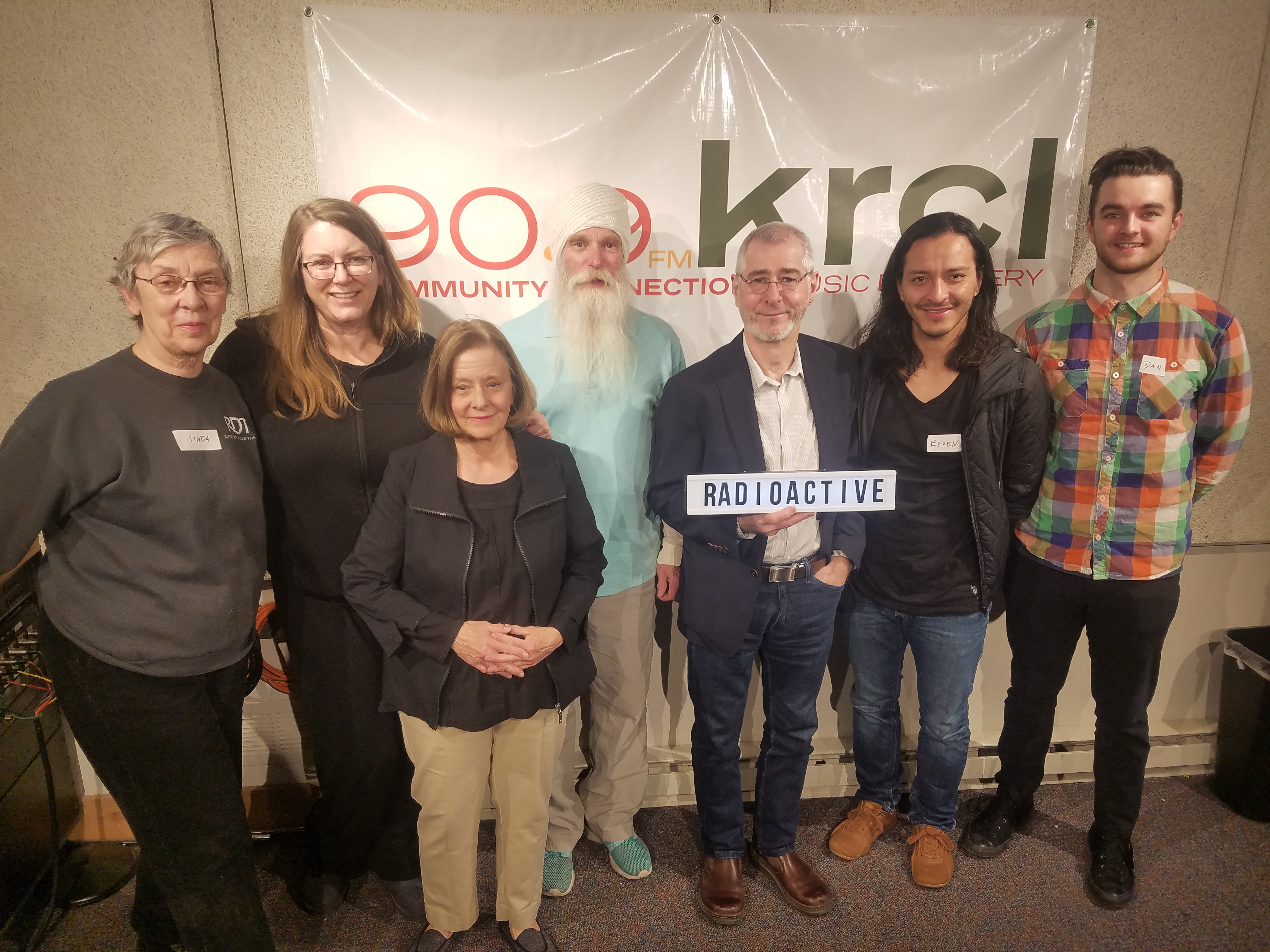 If you missed the March 20, 2019 KRCL live interview with flimmaker, Zelda Edmunds, you can listen NOW.
---
January 11, 2019 The Wanted 18 was screened at the Tenth East Senior Center in Salt Lake City. It was previously shown in September 2017 at the First Unitarian Church, also in Salt Lake City.

"The Wanted 18 tells the true story of a Palestinian committee in the town of Beit Sahour, near Bethlehem, that purchased a herd of cows from a friendly kibbutz owner and used them in a bid to undermine Israeli control. It was a step towards self-sufficiency beset by problems: Palestinians are not a cow-rearing people, which accounts for some agricultural hiccups along the way, and the Israeli authorities did not look kindly even on the smallest gestures of independence – the cows were declared "dangerous for the security of the state of Israel" and became fugitives from the law."
---
September 21, 2017 – Disturbing the Peace was screened at the Marmalade Library in Salt Lake City. It was well attended. A lively discussion and Q/A followed. For more information on the film visit Disturbing the Peace.
---
March 20, 2017 – The Settlers was screened at the First Unitarian Church
---
Oct. 21, 2016 – Budrus was screened at First Unitarian Church of Salt Lake City drew alot of attention. A very informative Q&A followed. Thanks to all who participated.
Budrus, a true story, delves into the fraught world of Palestinian-Israeli relations in this amazing account of one family's leadership of a movement to prevent Israel's Separation Barrier from slicing their town in half. The father and his fifteen year old daughter inspire nonviolent protests against the Israeli military. See Budrus Trailer here.
---
May 22, 2016 – The First Unitarian Church of Salt Lake City, UJPHL, and Wasatch Coalition for Peace and Justice co-hosted Mariam Fathalla, a victim of the 1948 Nakba (catastrophe), who gave her personal account of her family's removal from their home.
With a great granddaughter of other Nakba survivors, traveling companion and interpreter, Amena Ashkar, Miriam spoke of the horror on the day they were forcibly removed from their home. She and Amena also discussed what life in a refugee camp is like. Miriam has raised three generations in makeshift housing in the the refugee camps of Lebanon. It is the only "home" that Amena has ever known. Lebanon does not want them and Israel will not allow them to return. Though they seem optimistic, Miriam and Amena shared the personal despair of people without a home and without hope.
---
April 4-6, 2016 – UJPHL co-sponsored Professor Omid Safi who spoke to full houses at several events in Salt Lake City, including the University of Utah Hinkley Institute and the Salt Lake Marmalade Library, on "America and Islam: Peace and Justice in an Age of ISIS and Islamophobia"
Professor Safi is the director of Duke University's Islamic Studies Center and the editor of the book, "Progressive Muslims: On Justice, Gender, and Pluralism," which presents a new understanding of Islam rooted in social justice, gender equality, and religious/ethnic pluralism.
---
March 24, 2016 – UJPHL co-sponsored
California Congresswoman, Barbara Lee, who talked at the Hinkley Institute for Politics at the University of Utah about racism today.
Lee has served in the US Congress since 1998. She has chaired the Congressional Black Caucus, and co-chaired the Congressional Progressive Caucus. Lee is most noted for being the only member of congress to vote against the authorization of use of force after the 9/11 attacks. This remarkable move has made her popular with many anti-war critics. <https://lee.house.gov/>
---
2015 – UJPHL joins PAC and others to bring speakers to discuss Settler Colonialism
Summer 2014 – Utahns protested Apartheid Israel, the occupation of Palestine, and the attacks on Gaza.
---
2011 – UJPHL co-founder, Frances ReMillard, meets activist, author and Russell Tribunal jurist, Alice Walker, at the Russell Tribunal Hearings held in South Africa, 2011. The hearings addressed the question, " Do Israel's practices against the Palestinian People constitute the crime of apartheid under International Law? Watch the hearings and read the results here.
Is It Apartheid ? Read a summary of what an international team of legal scholars, commissioned by the South African government, said about the Israeli occupation in the Apartheid Booklet.R
Read the full report: "Occupation, Colonialism, Apartheid"
---
Obstacles to Peace in the Middle East